Kia Sportage: Back up warning system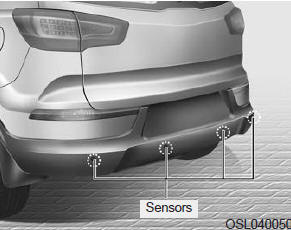 The Back up warning system assists the driver during backward movement of the vehicle by chiming if any object is sensed within a distance of 120 cm (47 in.) behind the vehicle.
This system is a supplemental system and it is not intended to nor does it replace the need for extreme care and attention of the driver. The sensing range and objects detectable by the back sensors are limited. Whenever backing-up, pay as much attention to what is behind you as you would in a vehicle without a Back up warning system.

WARNING
The back up warning system is a supplementary function only. The operation of the Back up warning system can be affected by several factors (including environmental conditions). It is the responsibility of the driver to always check the area behind the vehicle before and while backing up.

WARNING - Back up Warning System
Never rely solely on the parking assist system when backing up. Always perform a visual inspection to make sure the vehicle is clear of all obstructions before moving the vehicle in any direction. Stop immediately if you are aware of a child anywhere near your vehicle.Some objects may not be detected by the sensors, due to the object's size or material.
Key not in vehicle If the smart key is not in the vehicle and if any door is opened or closed with the ENGINE START/STOP button in the ACC, ON, or START position, the warning illuminates on the L ...
Operating condition This system will activate when backing up with the ignition switch ON. If the vehicle is moving at a speed over 10 km/h (6 mph), the system may not be activated correctl ...
Other Information:
Good driving practices
Never move the gear shift lever from P (Park) or N (Neutral) to any other position with the accelerator pedal depressed. Never move the gear shift lever into P (Park) when the vehicle is in mo ...
Comfort mode
The steering effort becomes lighter in comfort mode. For your safety, if you press the steering mode button to change the mode while turning the steering wheel, the LCD display will change as ...