Kia Sportage: Camshaft Position Sensor (CMPS): Description and Operation
Camshaft Position Sensor (CMPS) is a hall sensor and detects the camshaft position by using a hall element.
It is related with Crankshaft Position Sensor (CKPS) and detects the piston position of each cylinder which the CKPS can''t detect.
The CMPS is installed on engine head cover and uses a target wheel installed on the camshaft. The Cam Position sensor is a hall-effect type sensor. As the target wheel passes the Hall sensor, the magnetic field changes in the sensor. The sensor then switches a signal which creates a square wave.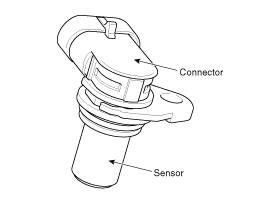 Inspection 1. Check the signal waveform of the CMPS and CKPS using the GDS. Specification: Refer to УWave FormФ Removal 1. Turn the ignition switch OFF and disconnect the battery negat ...
Other Information:
Closing the fuel filler lid
1.To install the cap turn it clockwise until it clicks once. 2.Close the fuel filler lid and push it in lightly making sure that it is securely closed. ✽ NOTICE There may be an intermitten ...
Positive Crankcase Ventilation (PCV) Valve: Repair procedures
Removal 1. Disconnect the vapor hose (A). 2. Remove the PCV valve (B). Inspection 1. Insert a thin stick (A) into the PCV valve (B) from the threaded side to check that the plunger move ...
Copyright © www.kispmanual.com 2014-2019