Kia Sportage: Checking the engine oil level
1.Be sure the vehicle is on level ground.
2.Start the engine and allow it to reach normal operating temperature.
3.Turn the engine off and wait for a few minutes (about 5 minutes) for the oil to return to the oil pan.
4.Pull the dipstick out, wipe it clean, and re-insert it fully.

WARNING - Radiator hose
Be very careful not to touch the radiator hose when checking or adding the engine oil as it may be hot enough to burn you.
5.Pull the dipstick out again and check the level. The level should be between F and L.

CAUTION - Replacing engine oil
Do not overfill the engine oil. It may damage the engine.
Do not spill engine oil, when adding or changing engine oil. If you drop the engine oil on the engine room, wipe it off immediately.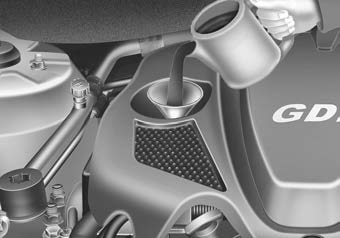 GDI engine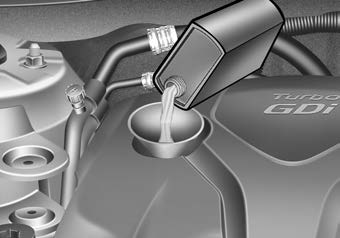 T-GDI engine
If it is near or at L, add enough oil to bring the level to F. Do not overfill.
Use a funnel to help prevent oil from being spilled on engine components.
Use only the specified engine oil. (Refer to "Recommended lubricants and capacities" in section 8.)
GDI engine T-GDI engine ...
Have engine oil and filter changed by an authorized Kia dealer according to the Maintenance Schedule at the beginning of this section. WARNING Used engine oil may cause skin irritation or canc ...
Other Information:
Transmitter: Repair procedures
Inspection 1. Check that the red light flickers when the door lock or unlock button is pressed on the transmitter. 2. Remove the battery (A) and check voltage if the red light doesn''t flicker ...
Refrigerant line: Repair procedures
Replacement 1. Discharge refrigerant from refrigeration system. 2. Replace faulty tube or hose. Cap the open fittings immediately to keep moisture or dirt out of ...