Kia Sportage: Components and Components Location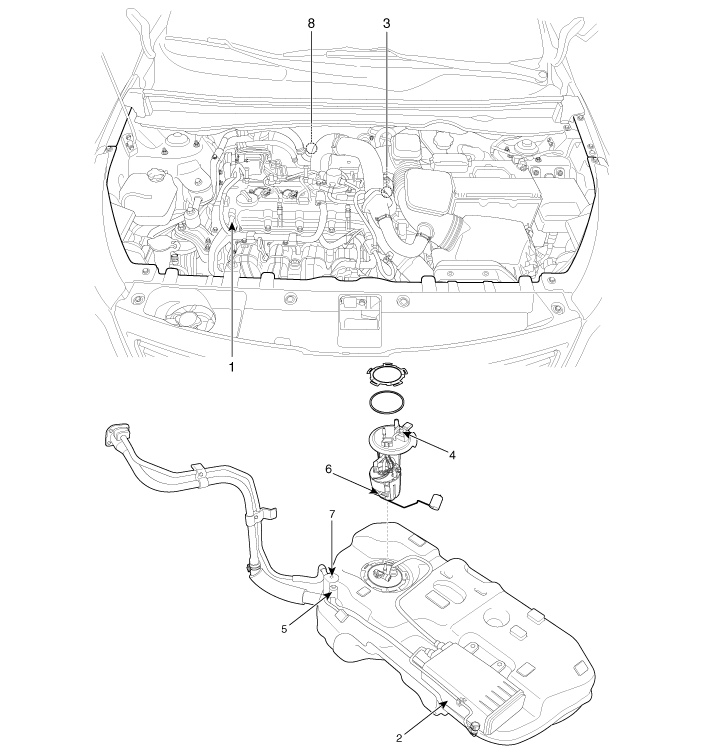 1. PCV valve




2. Canister




3. Purge control solenoid valve (PCSV)




4. Fuel tank pressure sensor (FTPS)




5. Canister close valve (CCV)




6. Fuel level sensor (FLS)




7. Fuel tank air filter




8. Catalytic converter (CCC)



1. PCV Valve




2. Canister




3. Purge Control Solenoid Valve (PCSV)




4. Fuel Tank Pressure Sensor (FTPS)




5. Canister Close Valve (CCV)




7. Fuel Tank Air Filter




6. Fuel Level Sensor (FLS)




8. Catalytic converter (CCC)








Other Information:
Transaxle Control Module (TCM): Description and Operation
Description Transaxle Control Module (TCM) is the automatic transmission''s brain. The module receives and processes signals from various sensors and implements a wide range of transmission con ...
Luggage net holder
To keep items from shifting in the cargo area, you can use the holders located in the cargo area to attach the luggage net. If necessary, contact your authorized Kia dealer to obtain a luggage ...
Copyright © www.kispmanual.com 2014-2019