Kia Sportage: Components and Components Location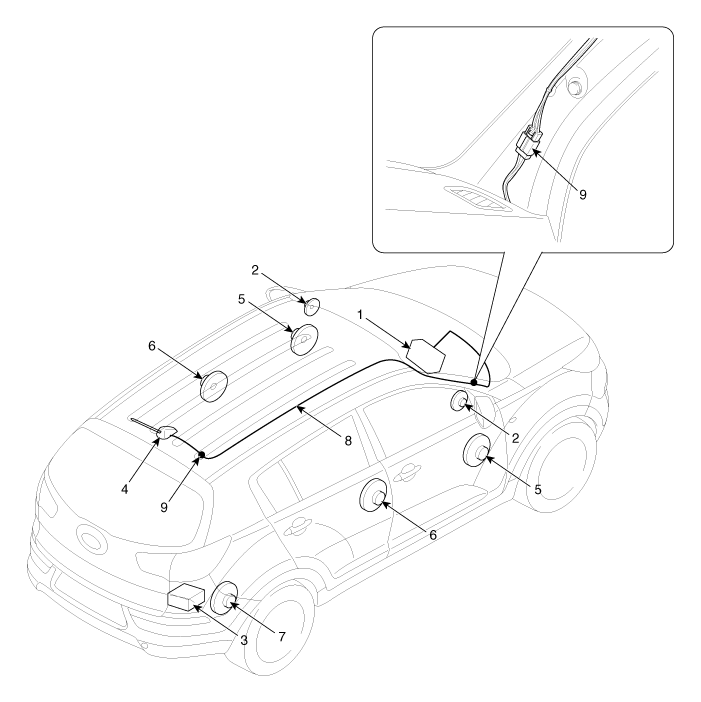 1. Audio unit




2. Tweeter speaker




3. External amplifier




4. Roof antenna (Radio)




5. Front door speaker





6. Rear door speaker




7. Sub woofer speaker




8. Antenna feeder cable




9. Antenna cable connector



Specifications Audio ItemSpecificationModelRADIO/CD/MP3 (PA30A, PA30B)RADIO/CD/MP3 (UVO2)Power supplyDV 14.4VAntenna80 PF 75 ?Tuning typePLL synthesized tuningLoad impedance4 ? x 4Internal : 4 ? ...
Components Connector Pin Information No.Connector AConnector B1Speaker RL (+)MM CAN HIGH 2Speaker FL (+)-3Speaker FR (+)-4Speaker RR (+)Steering Remote5--6-USB D (+)7-USB/iPOD VDD8Illuminat ...
Other Information:
Disc brakes wear indicator
When your brake pads are worn and new pads are required, you will hear a high-pitched warning sound from your front brakes or rear brakes. You may hear this sound come and go or it may occur whene ...
Transaxle Oil Temperature Sensor: Description and Operation
Description Transaxle oil temperature sensor monitors the automatic transaxle fluid''s temperature and conveys the readings to TCM. It is an NTC (Negative Thermal Coefficient) sensor whose resi ...
Copyright © www.kispmanual.com 2014-2019