Kia Sportage: Audio Unit: Components and Components Location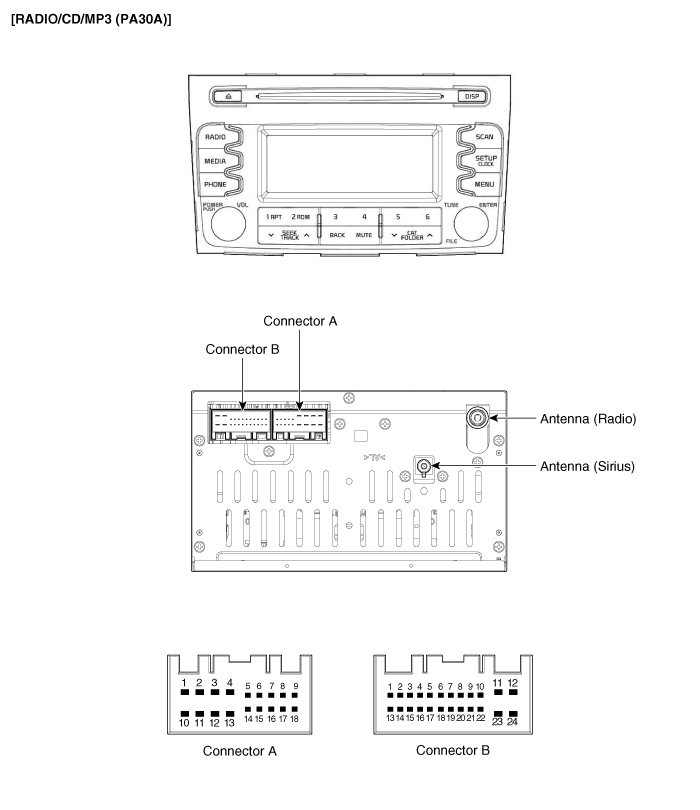 Connector Pin Information
No.




Connector A




Connector B




1




Speaker RL (+)




MM CAN HIGH




2




Speaker FL (+)




-




3




Speaker FR (+)




-




4




Speaker RR (+)




Steering Remote




5




-




-




6




-




USB D (+)




7




-




USB/iPOD VDD




8




Illumination (+)




AUX Input R




9




DETENT




AUX GND




10




Speaker RL (-)




MIC (+)




11




Speaker FL (-)




ACC




12




Speaker FR (-)




Battery (+)




13




Speaker RR (-)




MM CAN LOW




14




-




-




15




-




-




16




-




Vehicle Speed




17




Illumination (-)




Remote GND




18




Remote Antenna




USB D (-)




19




?




USB/iPOD GND




20




AUX Detect




21




AUX Input L




22




MIC (-)




23




-




24




Power GND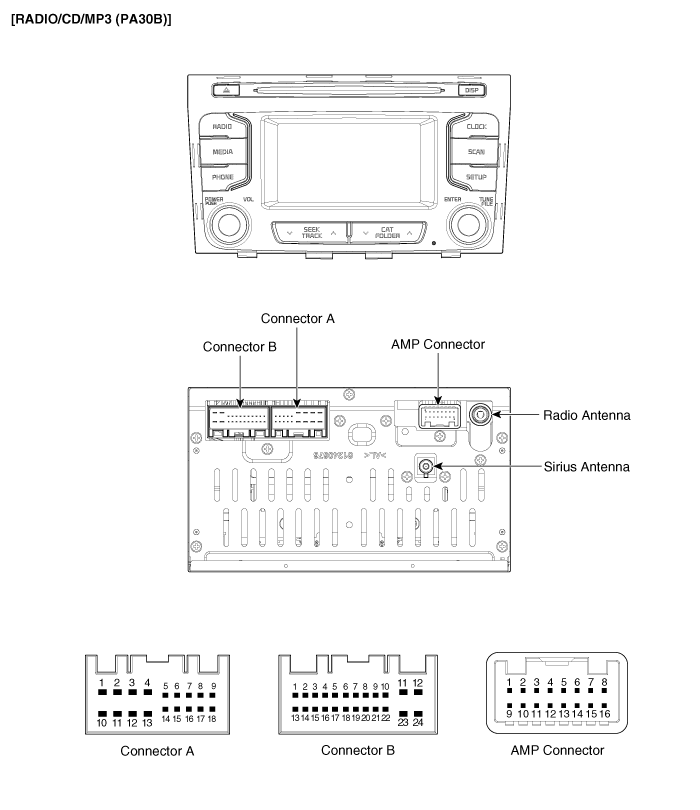 Connector Pin Information
No.




Connector A




Connector B




AMP Connector




1




Speaker RL (+)




CAN HIGH




-




2




Speaker FL (+)




-




-




3




Speaker FR (+)




-




Camera GND




4




Speaker RR (+)




Steering Remote




Camera VIN




5




-




-




-




6




-




USB D (+)




-




7




-




USB/iPOD VDD




-




8




Illumination (+)




AUX Input R




-




9




-




AUX GND




-




10




Speaker RL (-)




MIC (+)




Camera Battery (+)




11




Speaker FL (-)




ACC




P GND




12




Speaker FR (-)




Battery (+)




R Position




13




Speaker RR (-)




CAN LOW




-




14




-




-




-




15




-




Auto Light




-




16




-




Vehicle Speed




-




17




Illumination (-)




Remote GND




?




18




Remote Antenna




USB D (-)




19




?




USB/iPOD GND




20




AUX Detect




21




AUX Input L




22




MIC (-)




23




-




24




Power GND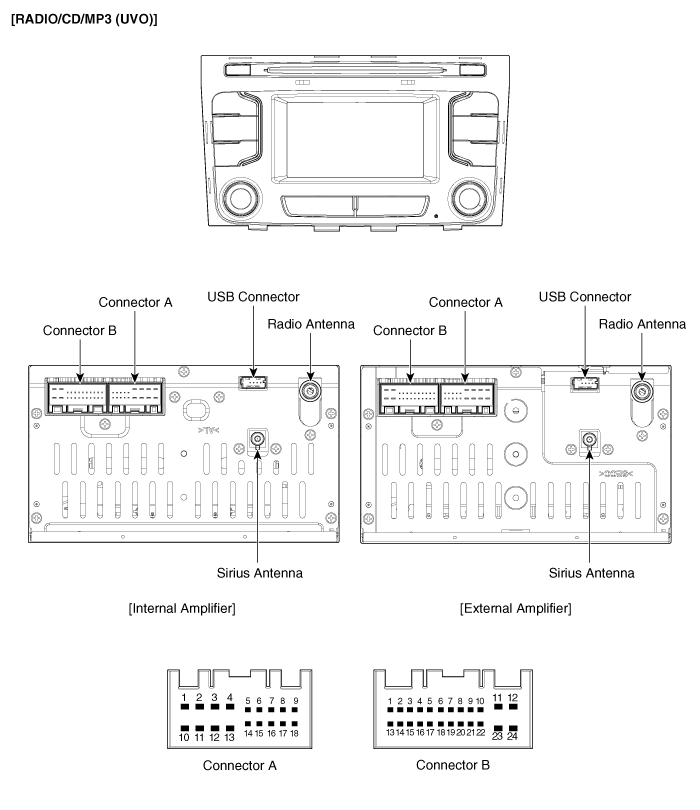 Connector Pin Information
No




Connector A




Connector B




Internal Amplifier




External Amplifier




Internal Amplifier




External Amplifier




1




Speaker RL (+)




-




CAN High




CAN High




2




Speaker FL (+)




-




-




-




3




Speaker FR (+)




-




-




-




4




Speaker RR (+)




-




Steering Remote




Steering Remote




5




- (SPDIF_GND)




SPDIF_GND




- (Rear Remote)




- (Rear Remote)




6




- (SPDIF_DN)




SPDIF_DN




Camera VIN




Camera VIN




7




- (IGN)




- (IGN)




Camera Battery (+)




Camera Battery (+)




8




Illumination (+)




Illumination (+)




AUX Input R




AUX Input R




9




-




-




AUX GND




AUX GND




10




Speaker RL (-)




-




MIC (+)




MIC (+)




11




Speaker FL (-)




-




ACC




ACC




12




Speaker FR (-)




-




Battery (+)




Battery (+)




13




Speaker RR (-)




-




CAN Low




CAN Low




14




-




-




-




-




15




- (SPDIF_DP)




SPDIF_DP




Auto Light




Auto Light




16




Door Unlock




Door Unlock




Speed IN




Speed IN




17




Illumination (-)




Illumination (-)




Remote GND




Remote GND




18




Remote Antenna




Remote Antenna




Camera V_GND




Camera V_GND




19




?




?




Camera REQ




Camera REQ




20




AUX Detect




AUX Detect




21




AUX Input L




AUX Input L




22




MIC (-)




MIC (-)




23




Camera P_GND




Camera P_GND




24




Power GND




Power GND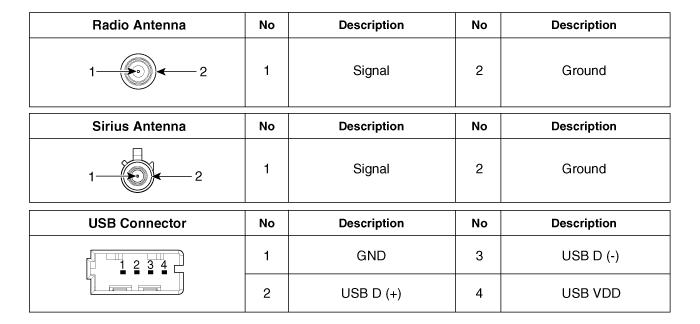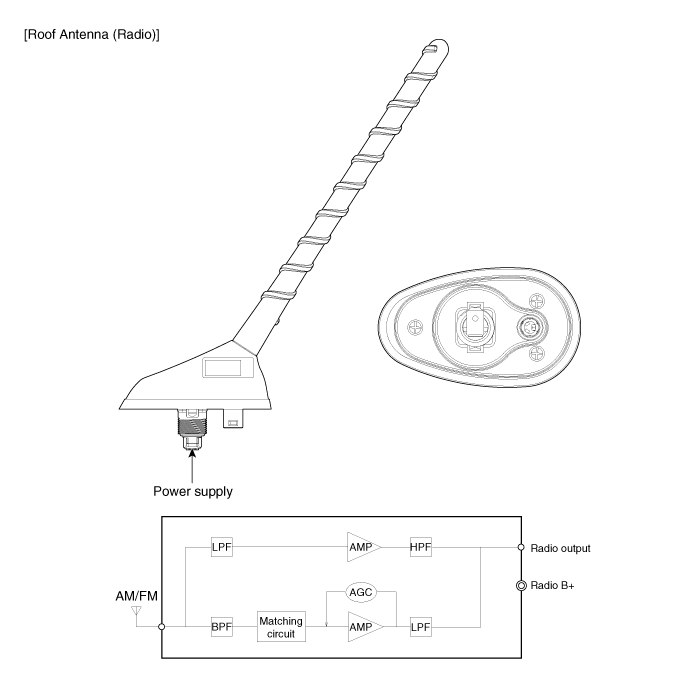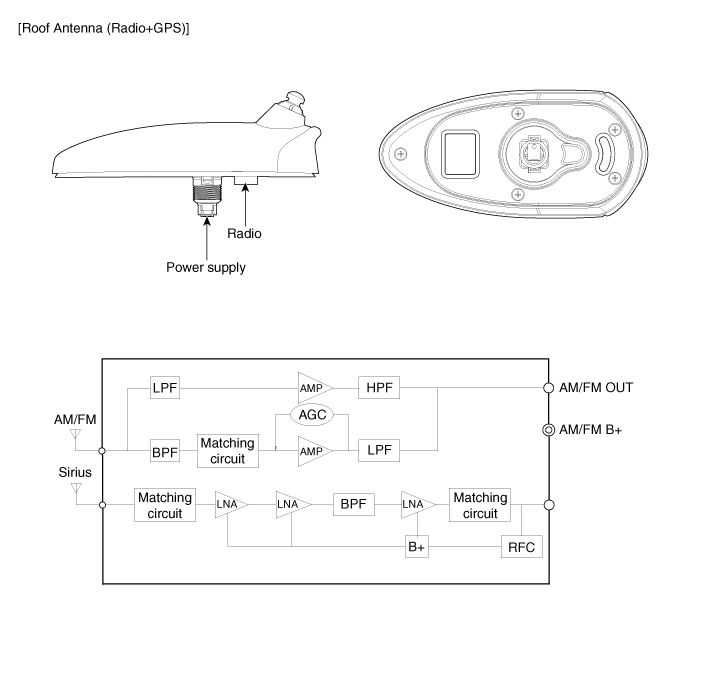 Component Location 1. Audio unit2. Tweeter speaker3. External amplifier4. Roof antenna (Radio)5. Front door speaker6. Rear door speaker7. Sub woofer speaker8. Antenna feeder cable9. Antenna cable ...
Removal 1. Disconnect the negative (-) battery terminal. 2. Remove the crash pad passenger''s garnish (A). (Refer to BD group - "Crash pad") 3. Disconnect the connectors and remove the cl ...
Other Information:
Description and Operation
Description Emissions Control System consists of three major systems. Х The Crankcase Emission Control System prevents blow-by gas from releasing into the atmosphere. This system recycles ...
Transaxle ranges
The indicator in the instrument cluster displays the shift lever position when the ignition switch is in the ON position. P (Park) Always come to a complete stop before shifting into P (Park). Thi ...
Copyright © www.kispmanual.com 2014-2019