Kia Sportage: Heated Oxygen Sensor (HO2S): Schematic Diagrams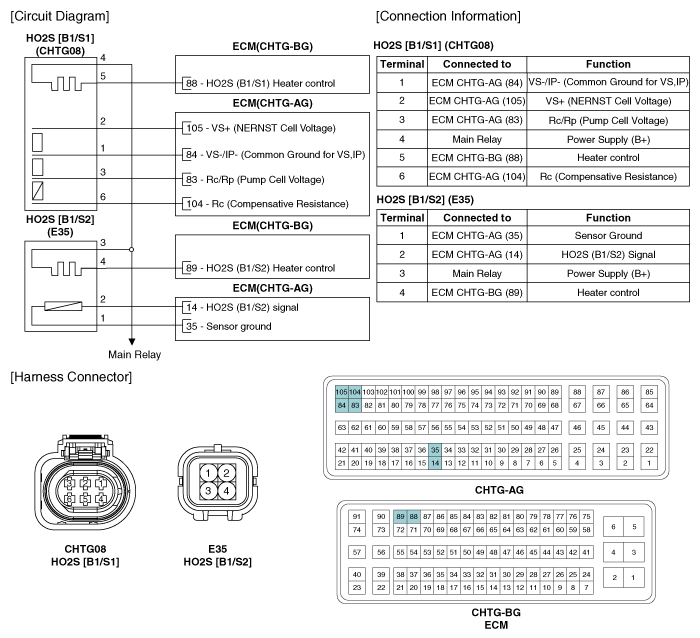 Specification HO2S [Bank 1/Sensor 1] ItemSpecificationHeater Resistance (?)2.5 ~ 4.0 [20°C(68°F)] HO2S [Bank 1/Sensor 2] A/F Ratio (?)Output Voltage(V)RICHApprox. 0.9LEANApprox. 0.04 ...
Inspection 1. Turn the ignition switch OFF. 2. Disconnect the HO2S connector. 3. Measure resistance between the HO2S terminals 4 and 5 [B1/S1]. 4. Measure resistance between the HO2S t ...
Other Information:
Precautions for Safe Driving
Bluetooth® Handsfree is a feature that enables drivers to practice safe driving. Connecting the head unit with a Bluetooth® phone allows the user to conveniently make and receive calls and us ...
Front Wiper Motor: Components and Components Location
Component Location 1. Cap2. Nut3. Wiper arm & blade4. Clip5. Cowl top cover6. Bolt7. Wiper motor & linkage assembly8. Wiper motor connector ...
Copyright © www.kispmanual.com 2014-2019