Kia Sportage: Opening the fuel filler lid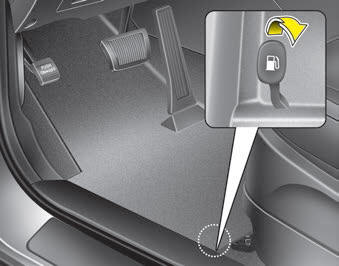 The fuel filler lid must be opened from inside the vehicle by pulling up the fuel filler lid opener.
If the fuel filler lid does not open because ice has formed around it, tap lightly or push on the lid to break the ice and release the lid. Do not pry on the lid. If necessary, spray around the lid with an approved de-icer fluid (do not use radiator anti-freeze) or move the vehicle to a warm place and allow the ice to melt.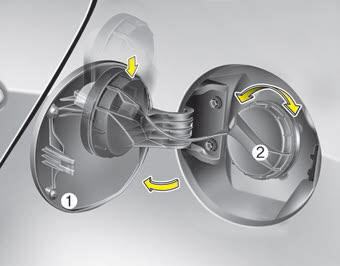 1.Stop the engine.
2.To open the fuel filler lid, pull up the fuel filler lid opener.
3.Pull open the fuel filler lid (1).
4.To remove the cap, turn the fuel filler cap (2) counterclockwise.
5.Refuel as needed.
1.To install the cap turn it clockwise until it clicks once. 2.Close the fuel filler lid and push it in lightly making sure that it is securely closed. ✽ NOTICE There may be an intermitten ...
Other Information:
Limp home (override) procedure
When you turn the ignition switch to the ON position, if the immobilizer indicator () goes off after blinking 5 times, your transponder equipped in the ignition key is out of order. You cannot sta ...
Roller blind
The roller blinds are installed inside of the sunroof and glass roof. Open or close the roller blind manually using the handle (1) when you need to. Before opening or closing the sunroof, open the ...