Kia Sportage: Telemetics Unit (TMU): Components and Components Location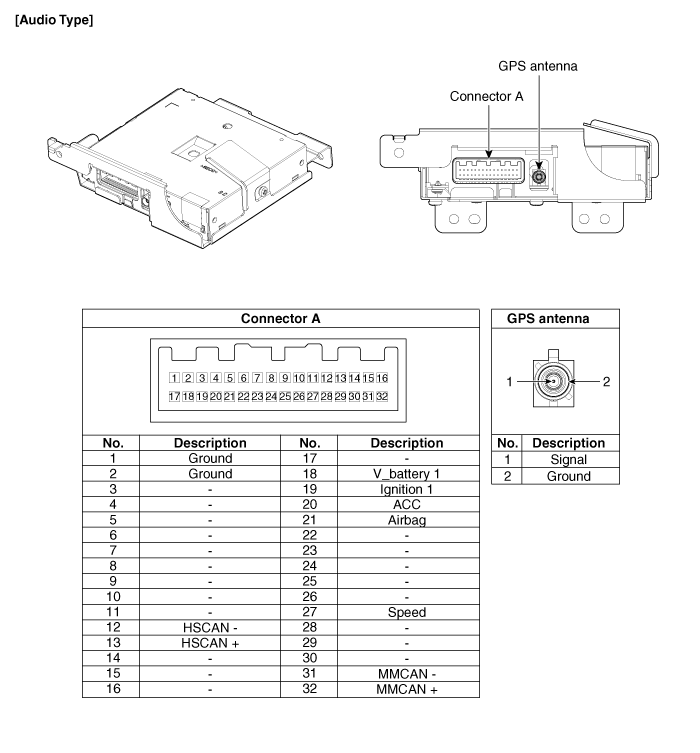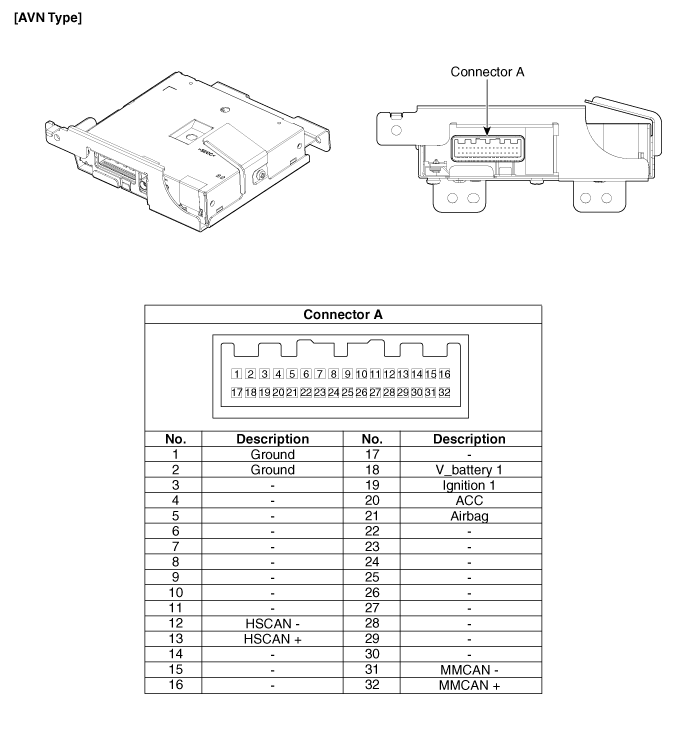 Connector Pin Specification
| | | | | | |
| --- | --- | --- | --- | --- | --- |
| No. | Pin Name | Type | From | To | Description (Wiring Spec.) |
| 1 | GND | DC Ground | TMU | Battery | Connected to battery ground |
| 2 | GND | DC Ground | TMU | Battery | Connected to battery ground |
| 3 | - | - | - | - | - |
| 4 | - | - | - | - | - |
| 5 | - | - | - | - | - |
| 6 | - | - | - | - | - |
| 7 | - | - | - | - | - |
| 8 | - | - | - | - | - |
| 9 | - | - | - | - | - |
| 10 | - | - | - | - | - |
| 11 | - | - | - | - | - |
| 12 | HS CAN (-) | Data I/O | BUS | BUS | High Speed CAN bus low |
| 13 | HS CAN (+) | Data I/O | BUS | BUS | High Speed CAN bus high |
| 14 | - | - | - | - | - |
| 15 | - | - | - | - | - |
| 16 | - | - | - | - | - |
| 17 | - | - | - | - | - |
| 18 | V battery 1 | DC Input | Battery | TMU | DC level input from battery Supply power to TMU |
| 19 | Ignition 1 | Data Input | Junction Box | TMU | Vehicle Key mode status |
| 20 | ACC | Data Input | Junction Box | TMU | Vehicle Key mode status |
| 21 | Airbag | Data Input | ACU | TMU | Airbag status data from ACU |
| 22 | - | - | - | - | - |
| 23 | - | - | - | - | - |
| 24 | - | - | - | - | - |
| 25 | - | - | - | - | - |
| 26 | - | - | - | - | - |
| 27 | Speed | Data Input | - | TMU | GPS Calibration (UVO ONLY) |
| 28 | - | - | - | - | - |
| 29 | - | - | - | - | - |
| 30 | - | - | - | - | - |
| 31 | MM CAN (-) | Data I/O | BUS | BUS | Low Speed CAN bus low |
| 32 | MM CAN (+) | Data I/O | BUS | BUS | Low Speed CAN bus high |
Description The Vehicle Information System is a Telematics service that ensures comfortable and enjoyable driving by providing safety, security, and vehicle diagnostic information, with the opt ...
Removal Х Take care not to scratch the crash pad and related parts. 1. Disconnect the negative (-) battery terminal. 2. Remove the crash pad garnish ...
Other Information:
Climate control air filter
Filter inspection The climate control air filter should be replaced according to the maintenance schedule. If the vehicle is operated in severely air-polluted cities or on dusty rough roads for a ...
Specifications
Specifications ItemsSpecificationHoodTypeRear hinged, front opening typeFront Door ConstructionFront hinged, full door constructionRegulator systemDouble-arm typeLocking systemPin-fork systemRear ...
Copyright © www.kispmanual.com 2014-2019