Kia Sportage: 4WD ECU: Components and Components Location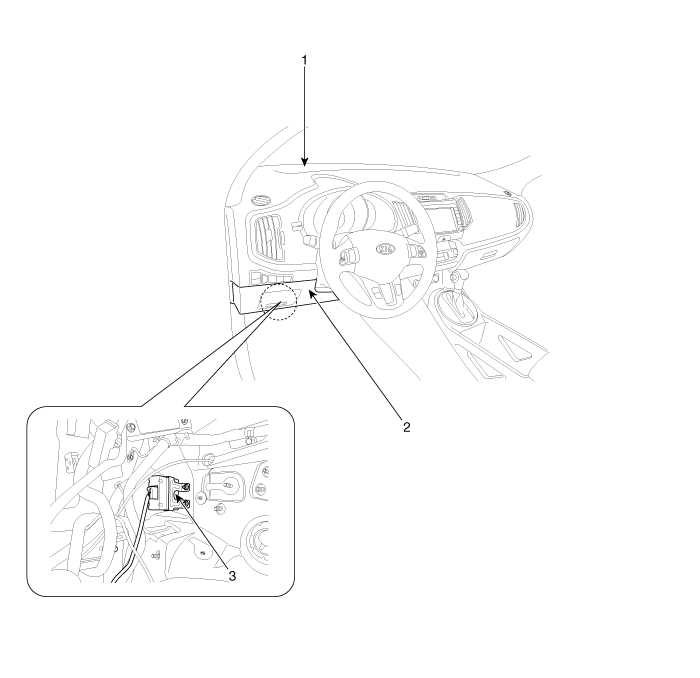 1. Crash pad
2. Crash lower panel
3. 4WD ECU
Circuit Diagram 4WD ECU Connector PinFunction1Oil pressure motor A2Oil pressure motor B3Lock mode switch4-5Input sensor signal(+)6-7CAN communication line (High)8CAN communication line (Low)9- ...
Replacement Prior to replacing the 4WD ECU, check the 4WD ECU''s clutch learing with the GDS tool. (Refer to " Coupling assembly " in 4WD group) 1. Remove the lo ...
Other Information:
Transaxle Control Module (TCM): Schematic Diagrams
1. TCM connector and terminal function 2. TCM Terminal Function Connector [A] PinDescriptionPinDescription1?54?2Line pressure control solenoid valve (LINE_VFS)55?3Torque converter control solen ...
Cruise indicators
CRUISE indicator The indicator illuminates when the cruise control system is enabled. The cruise indicator in the instrument cluster is illuminated when the cruise control ON-OFF switch on the ...
Copyright © www.kispmanual.com 2014-2019