Kia Sportage: 4WD ECU: Schematic Diagrams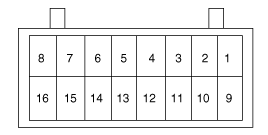 | | |
| --- | --- |
| Pin | Function |
| 1 | Oil pressure motor A |
| 2 | Oil pressure motor B |
| 3 | Lock mode switch |
| 4 | - |
| 5 | Input sensor signal(+) |
| 6 | - |
| 7 | CAN communication line (High) |
| 8 | CAN communication line (Low) |
| 9 | - |
| 10 | - |
| 11 | - |
| 12 | IG power |
| 13 | Ground |
| 14 | Battery power |
| 15 | Input sensor signal(-) |
| 16 | Pressure sensor(Input) |
| 17 | - |
| 18 | - |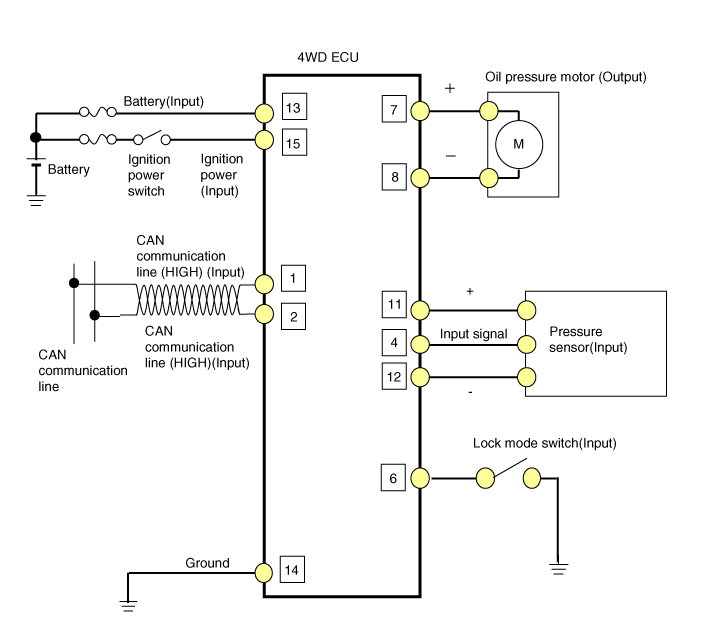 Power Flow Diagram 4WD ECU Input&Output Diagram ...
Component Location 1. Crash pad2. Crash lower panel3. 4WD ECU ...
Other Information:
In the event of brake failure
If service brakes fail to operate while the vehicle is in motion, you can make an emergency stop with the parking brake. The stopping distance, however, will be much greater than normal. WARN ...
Highway driving
Tires Adjust the tire inflation pressures to specification. Low tire inflation pressures will result in overheating and possible failure of the tires. Avoid using worn or damaged tires which may r ...
Copyright © www.kispmanual.com 2014-2019