Kia Sportage: Auto light position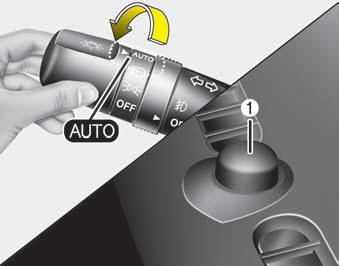 When the light switch is in the AUTO light position, the taillights and headlights will turn ON or OFF automatically depending on the amount of light outside the vehicle.
Never place anything over the sensor (1) located on the instrument panel. This will ensure better autolight system control.
Don't clean the sensor using a window cleaner. The cleaner may leave a light film which could interfere with sensor operation.
If your vehicle has window tint or other types of metallic coating on the front windshield, the Auto light system may not work properly.
When the light switch is in the headlight position (2nd position), the head, tail, license and instrument panel lights will turn ON. The ignition switch must be in the ON position to turn on th ...
To turn on the high beam headlights, push the lever away from you. Pull it back for low beams. The high beam indicator will light when the headlight high beams are switched on. To prevent the ...
Other Information:
To turn cruise control off, do one of the following
Push the cruise ON-OFF button (the CRUISE indicator light in the instrument cluster will go off). Turn the ignition off. Both of these actions will cancel the cruise control operation. If ...
When connecting a Bluetooth® Phone
Before connecting the head unit with the mobile phone, check to see that the mobile phone supports Bluetooth® features. Even if the phone supports Bluetooth®, the phone will not be found durin ...
Copyright © www.kispmanual.com 2014-2019