Kia Sportage: Description and Operation
The starting system includes the battery, starter, solenoid switch, ignition switch, inhibitor switch (A/T), clutch pedal switch (M/T), ignition lock switch, connection wires and the battery cable.
When the ignition key is turned to the start position, current flows and energizes the starter motor''s solenoid coil.
The solenoid plunger and clutch shift lever are activated, and the clutch pinion engages the ring gear.
The contacts close and the starter motor cranks. In order to prevent damage caused by excessive rotation of the starter armature when the engine starts, the clutch pinion gear overruns.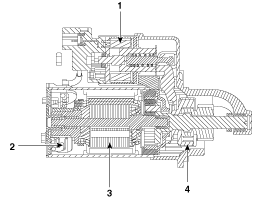 1.Solenoid
2.Brush assembly
3.Armature
4.Overrun clutch
Starter Circuit Troubleshooting The battery must be in good condition and fully charged. 1. Disconnect the fuel pump relay (A) in the fuse box. 2. With the shif ...
Other Information:
SS-B Solenoid Valve(ON/OFF): Repair procedures
Inspection 1. Turn ignition switch OFF. 2. Remove the air duct (A). 3. Remove the air cleaner assembly. (1) Disconnect the breather hose (A) and brake booster intensifier hose. (2) ...
Maintenance when trailer towing
Your vehicle will need service more often when you regularly pull a trailer. Important items to pay particular attention to include engine oil, automatic transaxle fluid, axle lubricant and coolin ...