Kia Sportage: Fan speed control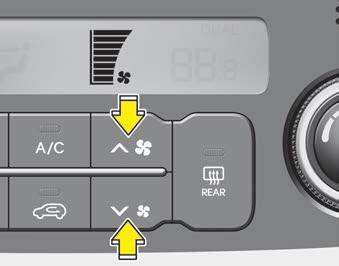 The fan speed can be set to the desired speed by operating the fan speed control switch.
To change the fan speed, press (

) the switch for higher speed, or push (

) the switch for lower speed. To turn the fan speed control off, press the front blower OFF button.
This is used to select the outside (fresh) air position or recirculated air position. To change the air intake control position, push the control button. Recirculated air position With the reci ...
Press the A/C button to turn the air conditioning system on (indicator light will illuminate). Press the button again to turn the air conditioning system off. ...
Other Information:
Troubleshooting
Troubleshooting Trouble SymptomProbable causeRemedyVehicle pulls to one sideScoring of driveshaft ball jointReplaceWear, rattle or scoring of wheel bearingReplaceDefective front suspension and st ...
Climate Seat: Components and Components Location
Components 1. Ventilation blower2. Ventilation ECU3. Ventilation seat switch4. Blower connector5. Heater connector6. Ventilation ECU connector ...