Kia Sportage: If you do decide to pull a trailer
Here are some important points if you decide to pull a trailer:
Consider using a sway control. You can ask a hitch dealer about sway control.
Do not do any towing with your car during its first 2,000 km (1,200 miles) in order to allow the engine to properly break in.Failure to heed this caution may result in serious engine or transaxle damage.
When towing a trailer, be sure to consult an authorized Kia dealer for further information on additional requirements such as a towing kit, etc.
Always drive your vehicle at a moderate speed (less than 100 km/h (60 mph)).
On a long uphill grade, do not exceed 70 km/h (45 mph) or the posted towing speed limit, whichever is lower.
The chart contains important considerations that have to do with weight: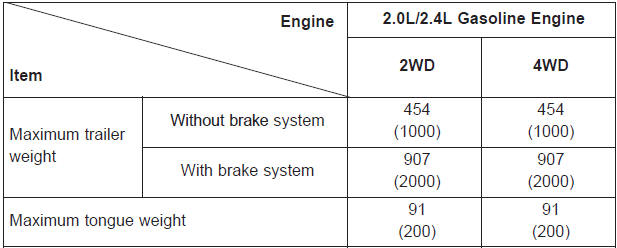 2WD : 2-Wheel drive
4WD : 4-Wheel drive
To identify what the vehicle trailering capacity is for your vehicle, you should read the information in "Weight of the Trailer" that appears later in this section.
Your vehicle will need service more often when you regularly pull a trailer. Important items to pay particular attention to include engine oil, automatic transaxle fluid, axle lubricant and coolin ...
What is the maximum safe weight of a trailer? It should never weigh more than the maximum trailer weight with trailer brakes. But even that can be too heavy. It depends on how you plan to use you ...
Other Information:
Stowing the rear seat belt
The rear seat belt buckles can be stowed in the pocket between the rear seatback and cushion when not in use. Routing the seat belt webbing through the rear seat belt guides will help keep the ...
Turn signals and lane change signals
The ignition switch must be on for the turn signals to function. To turn on the turn signals, move the lever up or down (A). The green arrow indicators on the instrument panel indicate which tur ...