Kia Sportage: Weight of the trailer tongue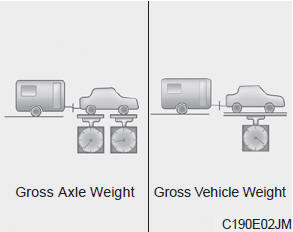 The tongue load of any trailer is an important weight to measure because it affects the total gross vehicle weight (GVW) of your vehicle. This weight includes the curb weight of the vehicle, any cargo you may carry in it, and the people who will be riding in the vehicle. And if you will tow a trailer, you must add the tongue load to the GVW because your vehicle will also be carrying that weight.
The trailer tongue should weigh a maximum of 10% of the total loaded trailer weight, within the limits of the maximum permissible trailer tongue load. After you've loaded your trailer, weigh the trailer and then the tongue, separately, to see if the weights are proper. If they aren't, you may be able to correct them simply by moving some items around in the trailer.

WARNING - Trailer
Always follow the loading instructions provided with your trailer. Improper loading can effect vehicle operation and result in an accident.
What is the maximum safe weight of a trailer? It should never weigh more than the maximum trailer weight with trailer brakes. But even that can be too heavy. It depends on how you plan to use you ...
Other Information:
Under Body: Body Repair
Projected Dimensions Front side member tooling hole (O6.5)Side cover mounting hole (O8)Front sub frame mounting hole (O17)Front sub frame mounting hole (O18)Front side member rear extension tooli ...
Seatback angle
To recline the seatback: 1. Lean forward slightly and lift up the seatback recline lever. 2. Carefully lean back on the seat and adjust the seatback of the seat to the position you desire. 3. R ...