Kia Sportage: Weight of the trailer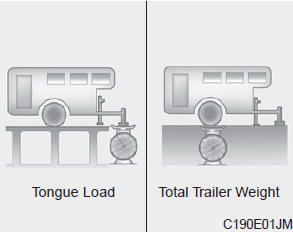 What is the maximum safe weight of a trailer? It should never weigh more than the maximum trailer weight with trailer brakes. But even that can be too heavy.
It depends on how you plan to use your trailer. For example, speed, altitude, road grades, outside temperature and how often your vehicle is used to pull a trailer are all important. The ideal trailer weight can also depend on any special equipment that you have on your vehicle.
Here are some important points if you decide to pull a trailer: Consider using a sway control. You can ask a hitch dealer about sway control. Do not do any towing with your car during its first ...
The tongue load of any trailer is an important weight to measure because it affects the total gross vehicle weight (GVW) of your vehicle. This weight includes the curb weight of the vehicle, any ...
Other Information:
Specifications
Specifications ItemsSpecificationsRated voltageDC 12VOperating temperature range -22 ~ +176°F (-30°C ~ +80°C)Rated loadDimmer & passingswitchHigh : 0.2A (Relay load)Low : 0.2A (Relay load)Pas ...
TPMS Receiver: Schematic Diagrams
Schematic Diagrams TPMS Receiver Circuit Diagram Harness Connector PinDescription1Battery2CAN_High3GND4-5-6-7IGN8CAN_Low9-10-11-12- ...