Kia Sportage: Radiator: Components and Components Location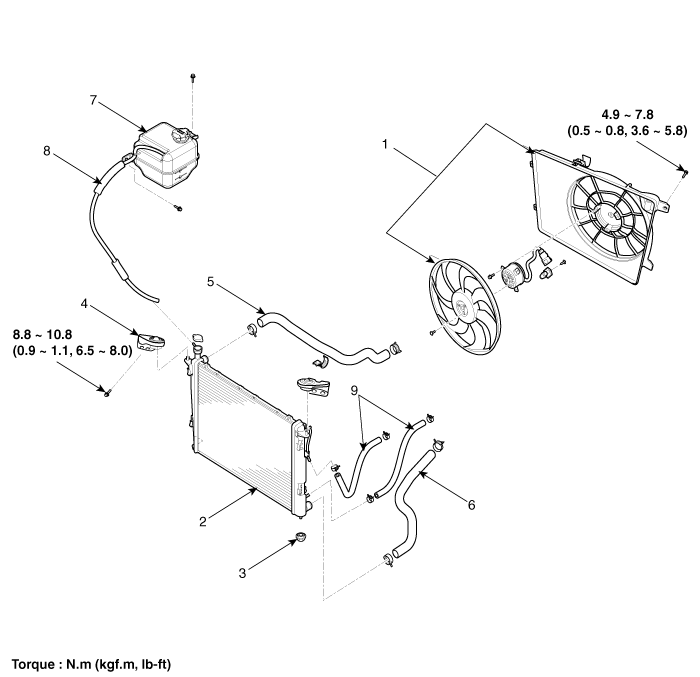 1. Cooling fan assembly




2. Radiator assembly




3. Mounting insulator




4. Radiator mounting bracket




5. Radiator upper hose




6. Radiator lower hose




7. Reservoir tank




8. Over flow hose




9. ATF cooler hoses



Refilling And Bleeding Never remove the radiator cap when the engine is hot. Serious scalding could be caused by hot fluid under high pressure escaping from the rad ...
Inspection Radiator Cap Testing 1. Remove the radiator cap, wet its seal with engine coolant, and then install it on a pressure tester. 2. Apply a pressure of 93.16 ~ 122.58kPa (0.95 ~ 1.25kg ...
Other Information:
Specifications
Specification ItemDescriptionPower source3VOperating temperature-20°C ~ +60°CRF ModulationFSKRF frequency433.92MHzBattery1EA (CR2032) An inappropriately disposed bat ...
Front Bumper: Components and Components Location
Components 1. Front bumper cover2. Front bumper side bracket [LH]3. Front bumper side bracket [RH] ...
Copyright © www.kispmanual.com 2014-2019