Kia Sportage: Side Body: Body Repair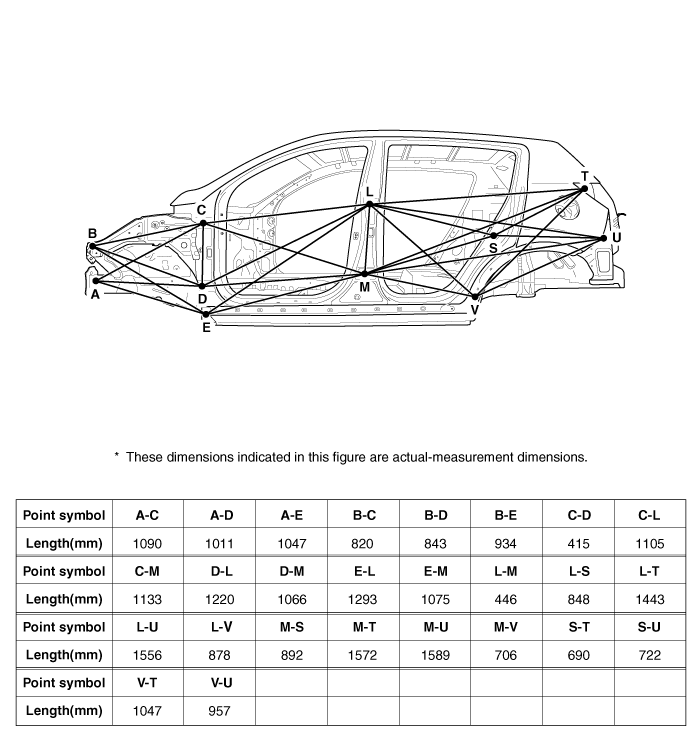 Front side member tooling hole (O20)





Fender apron panel tooling hole (O10)





Front door upper hinge mounting hole




(O13)




Front door lower hinge mounting hole




(O13)




Fender panel mounting hole (O6.6)





Rear door upper hinge mounting hole




(O10)




Rear door lower hinge mounting hole




(O13)




Rear door switch mounting hole (O13)





Rear combination lamp mounting hole




(O10)







Rear bumper mounting hole (O6)





Side sill moulding mounting hole




(8.5X8.5)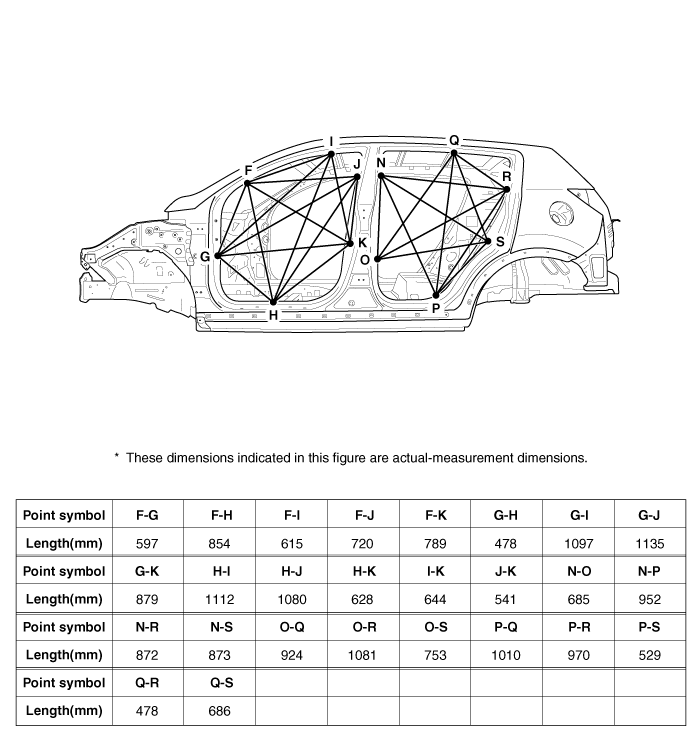 | | | |
| --- | --- | --- |
| | | |
| Side outer panel notch | Side outer panel notch | Side outer panel notch |
| | | |
| Side outer panel notch | Side outer panel notch | Front door switch mounting hole (O10) |
| | | |
| Side outer panel notch | Side outer panel notch | Side outer panel notch |
| | | |
| Side outer panel notch | Side outer panel notch | Rear door switch mounting hole (O10) |
Front Body A Hood hinge mounting hole (O12)Fender apron upper panel tooling hole(O8)Front suspension mounting hole (O11)Side outer panel cornerFront pillar cornerCowl panel tooling hole (O10) Fr ...
Interior A Front pillar trim mounting hole (O8.5)Front pillar trim mounting hole (O7)Cowl crossbar mounting hole (O9)Front door checker mounting hole (O13)Cowl side trim mounting hole (O8.5)Seatb ...
Other Information:
35R Clutch Control Solenoid Valve(35R/C_VFS): Description and Operation
Description 35R Clutch control solenoid valve(35R/C) is attached to the valve body. This variable force solenoid valve directly controls the hydraulic pressure inside the 35R Clutch. ...
If the engine overheats
If your temperature gauge indicates overheating, you experience a loss of power, or hear loud pinging or knocking, the engine will probably be too hot. If this happens, you should: 1.Pull off the ...
Copyright © www.kispmanual.com 2014-2019