Kia Sportage: Steering wheel audio controls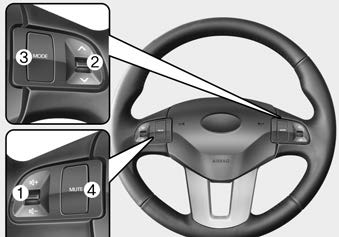 Type A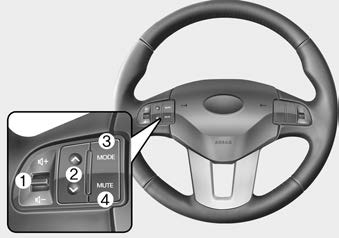 Type B
The steering wheel may incorporate audio control buttons.
✽ NOTICE
Do not operate audio remote control buttons simultaneously.
Driving while distracted is dangerous and should be avoided. Drivers should remain attentive to driving and always exercise caution when using the steering-wheel-mounted controls while driving.
VOLUME (

/

) (1)
Press the lever upward ( ) to increase the volume.
Press the lever downward ( ) to decrease the volume.
SEEK/PRESET (

/

) (2)
The SEEK/PRESET button has different functions based on the system mode. For the following functions the button should be pressed for 1 second or more.
RADIO mode
It will function as the AUTO SEEK select button.
CD/USB/iPod® mode
It will function as the FF/REW button.
If the SEEK/PRESET button is pressed for less than 1 second, it will work as follows in each mode.
RADIO mode
It will function as the PRESET STATION buttons.
CD/USB/iPod® mode
It will function as TRACK UP/DOWN button.
MODE (3)
Press the button to change audio source.
FM(1~2)➟AM➟SAT(1~3)➟CD➟USB AUX(iPod)➟FM...
MUTE (4)
Press the button to mute the sound.
Press the button to turn off the microphone during a telephone call.
Detailed information for audio control buttons is described in the following pages in this section.
Type A, B Your vehicle uses a roof antenna to receive both AM and FM broadcast signals. This antenna is removable. To remove the roof antenna, turn it counterclockwise. To install the roof anten ...
If your vehicle has an aux and/or USB(universal serial bus) port or iPod® port, you can use an aux port to connect audio devices and an USB port to plug in an USB and also an iPod® port to plug ...
Other Information:
Front fog light
Fog lights are used to provide improved visibility when visibility is poor due to fog, rain or snow, etc. The fog lights will turn on when the fog light switch (1) is turned to the on position a ...
Care of seat belts
Seat belt systems should never be disassembled or modified. In addition, care should be taken to assure that seat belts and belt hardware are not damaged by seat hinges, doors or other abuse. ...